Now that there are 8 Jackbox Party Packs on the market, you may be wondering which ones are worth buying. That depends on what you want out of your Jackbox experience (and how much money you have). To help you with this decision, I'll be taking an objective* (*highly subjective) look at what each pack can provide, and which you might want to buy depending on what you're looking for.
---
How good is each Party Pack?
First, a quick overview of each pack and the games within. I won't be going into too much detail about the games, this is meant to be about the packs and the overall experience within them.
---
Jackbox Party Pack 1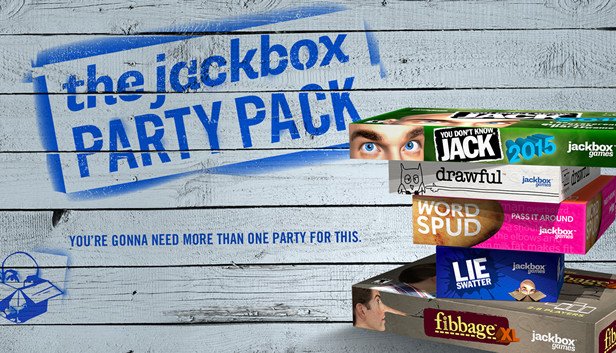 The original Jackbox Party Pack really put Jackbox on the map with standout games Fibbage and Drawful. These have both had direct sequels (which I consider upgrades), so unless you are specifically looking for these 2 games on a budget, you can do better than Party Pack 1.
The remaining 3 games in Pack 1 are entirely forgettable, including Jackbox's namesake the You Don't Know Jack quiz.
---
Jackbox Party Pack 2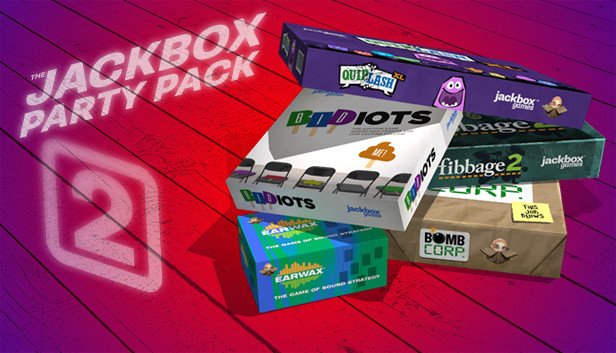 Fibbage was so successful in fact, that they made a sequel immediately. As well as Fibbage 2, Pack 2 saw the inception of Quiplash, which arguably completes the "holy trinity" of Jackbox games (Fibbage, Drawful, Quiplash).
The rest of the games in Pack 2 are fine, but "fine" just doesn't cut it when talking about Jackbox games!
---
Jackbox Party Pack 3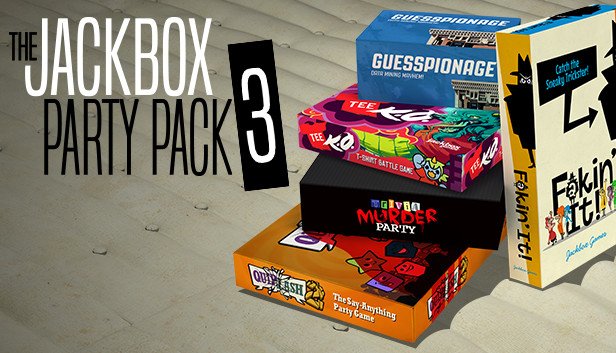 This time, Quiplash was so successful that they made a sequel immediately! Unfortunately, Quiplash 2 is the weakest of the Quiplash trilogy because of its poor final round. Fortunately, the rest of the pack is much better this time.
We still regularly play Trivia Murder Party (although it has been laid to rest by Trivial Murder Party 2 – released in Party Pack 6)* and Tee K.O., and Fakin' It still makes the occasional appearance, though the speed at which you need to lie is off-putting for some people.
Whilst the best games have direct upgrades in later packs, there are no games in this pack I would prefer to sit out of.
---
Jackbox Party Pack 4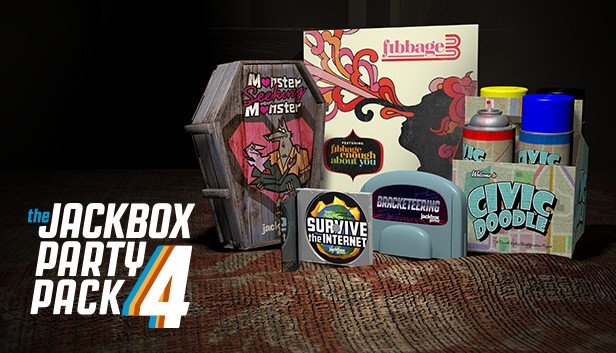 Fibbage gets its third instalment in Party Pack 4 but the rest of the pack is a little lacklustre. The other games introduce a lot of interesting new ideas, but they don't quite capture that Jackbox magic. Most of these ideas get improved upon in later packs – though Civic Doodle added a "build-upon" drawing mechanic which we still go back to occasionally.
Shout out to Fibbage for it's "Enough about you" mode that asks questions about the individual participants. This is best done with a group that knows each other decently well, however – and might not make a very good icebreaker.
---
Jackbox Party Pack 5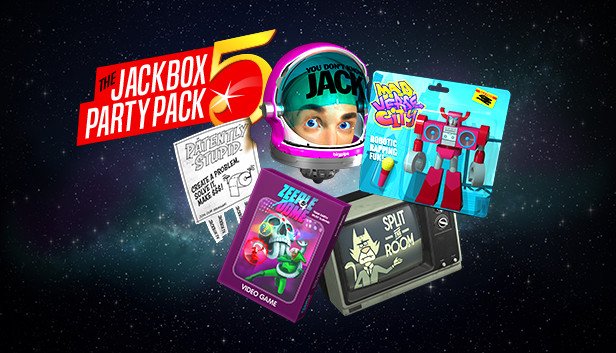 My name's Bear-Bot and I'm here to say
Mad Verse City is fun to play,
I like to rhyme and I like to rap
and I like to call my good friends "crap"!
A more traditional pack setup with 2 excellent games and 3 entirely forgettable ones. Mad Verse City is arguably one of the greatest games Jackbox have created, and Patently Stupid combines drawing and presentation in a really fun way (with the right group).
This pack also includes the best iteration of You Don't Know Jack, which is- in my opinion- still quite poor.
---
Jackbox Party Pack 6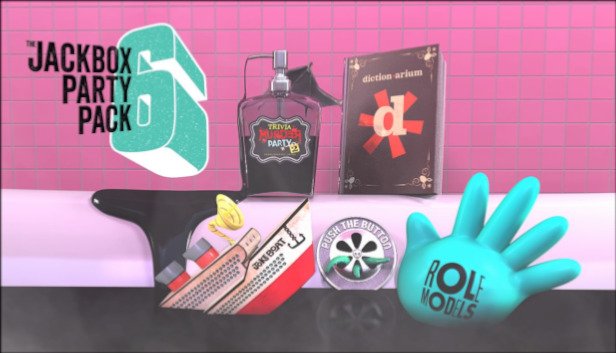 Only the second pack to have no completely forgettable games, Party Pack 6 has something for everyone. Whether you want a chill time in Role Models, to feel smart in Trivia Muder Party 2, to feel silly in Joke Boat, to make stuff up in Dictionarium, or to deceive and deduct in Push the Button; there is a reason to play every game in this pack.
The games in this pack maximise their main mechanic much more than previous packs, this could put off some people who appreciate alternative ways to play Jackbox games. For example, in Fibbage or Quiplash you can try for the "correct" answer or for a funny answer and still have a good time, but in Joke Boat you can only try for funny answers. Even so, this is still a very good pack.
---
Jackbox Party Pack 7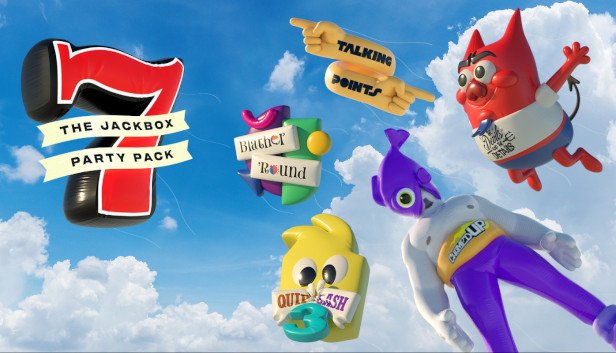 Similar to Pack 6 there is a lot of variety here, however one game does let Pack 7 down. Quiplash 3 is the best Quiplash to date, Champ'd Up is a comedy focussed take on the drawing games, and Talking Points goes all-in on silly presentations; these are all great games for their own reasons.
A special shout-out to Blather Round for being possibly the best gateway game for Jackbox games. Requiring a little (but not too much) creativity, competition, and speed, it's a great way to introduce people to a lot of Jackbox mechanics at once without a lot of pressure to do well.
Blather Round is my favourite Jackbox game for one simple reason: co-operation. When I want a chill time with friends, we can play a few Blather Rounds and not really care about the score. It's less like other Jackbox games and more akin to party games like Monikers, Just One and Articulate.
The only let-down of the pack is The Devils and the Details which tries to blend competitive and co-operative elements, but unfortunately makes both of them feel bad.
The Devils and the Details is also very hard to get to work over voice call because of the amount of talking over people you have to do. It works a bit better in person, but still not well enough for me to really recommend.
---
Jackbox Party Pack 8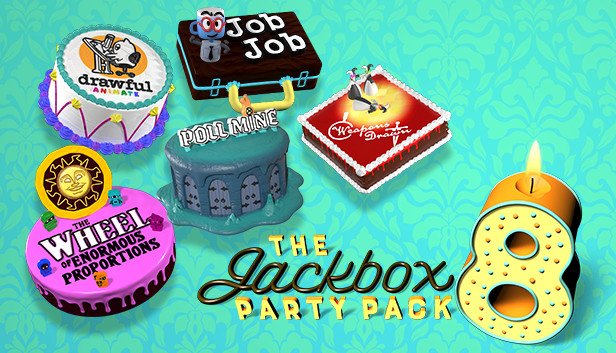 The most recent instalment in the Jackbox series, I'm still getting used to these games but the pack seems pretty great so far!
Drawful: Animate feels like a great evolution of Drawful, only adding to what made Drawful great. Job Job might be a contender for the best Jackbox game, combining competition and comedy in a way only Jackbox can. The Poll Mine is a more competitive version of Role Models, but adds discussion to prevent it feeling too competitive.
Weapons Drawn feels a little too complicated for what I want from a Jackbox game, and a little too competitive despite how much they try and tell you it isn't. Lastly, The Wheel of Enormous Proportions has a little too much randomness to be a good trivia game, and a little too much trivia to be a good randomness game.
---
Which Party Pack(s) should I buy?
With 8 packs on the market, there are a lot of possible permutations of what you could buy. I'll try and break down some of the key things to consider when choosing which packs to buy, and hopefully give you an idea about the games which appeal most to you.
---
The "big 3"
Most people would agree the "big 3" Jackbox games are Fibbage, Drawful, and Quiplash (evidenced by the fact they are the only games with 3 instalments).
Wait, what about Jackbox's titular game: You Don't Know Jack?
It's worth noting that Drawful 2 is available as a standalone game, so if this is what you're looking for, Party Pack 2 and the standalone Drawful 2 is the cheapest way to get the "big 3".
If you want the best versions of the "big 3", Party Packs 4, 7, and 8 are your best bets – though you could swap Pack 8 with Drawful 2 if you want to save a bit of money.
---
The best one
If you want the single best Party Pack, this is where it most depends on what you want out of your Jackbox experience. I would generally say the later packs are better, because the Jackbox team has clearly learned a lot from some of their less successful games in previous packs.
Party Packs 6, 7, and 8 all rate roughly equal in my opinion, though I would probably recommend Party Pack 7 for first time buyers as it includes a good drawing game, a Quiplash, and 2 unique games which I expect most people would enjoy one of, if not both.
---
All the games!
If you want "everything" Jackbox has to offer, then you should probably look to buy everything from Party Pack 4 onwards. You might also want to consider Party Pack 3 as it has some unique games, and possibly the Drawful 2 standalone.
You can skip Party Packs 1 and 2 unless you are particularly interested in one of the games I have considered "sub-par".
---
Just the funnies
If you just want the most "laughs per minute" out of your Jackbox experience, your best bets are probably Party Packs 7 and 5 (in that order). Party Pack 7 feels like it has 3 games designed for laughs (Quiplash 3, Champ'd Up, and Talking Points) and Party Pack 5 has 2 (Patently Stupid and Mad Verse City).
Most of the games will make you laugh, but these feel like packs which have the most games where laughter is the main objective.
---
I like to deceive
A much smaller niche in the Jackbox series, you're pretty much looking at Fakin' It, Push the Button, and Weapons Drawn if deception is your entire aim. Trivia Murder Party also has a couple of deception mini-games, so Party Packs 3 and 6 would be your best bets. (Though might I suggest Among Us?)
---
I am a trivia machine
If you're here to feel smart, maybe pick up Trivial Pursuit instead; but if this is your way into Jackbox I would suggest Trivia Murder Party and Fibbage. Blather Round and The Poll Mine are also appropriate, though more about interpretation than general knowledge. Guesspionage, You Don't Know Jack, and The Wheel of Enormous Proportions also fall into this category, but aren't as good games in my opinion. If you like trying to figure out your friends, then the deception category would also apply here.
That also makes Party Pack 3 and 6 your best bets, and there are plenty of other great games in those packs too!
---
Word Spud
Party Pack 1 is the only Jackbox Party Pack with Word Spud in it, so I would suggest Jackbox Party Pack 1 if you want to play Word Spud.
---
And that's it! That's my quick breakdown of all the Jackbox Party Packs, and some suggestions on which one(s) you should buy. Let us know if you'd like a more detailed breakdown of the individual games within the Jackbox Party Packs, though hopefully this overview will give you a good idea about where to start.
If you're enjoying the Jackbox Party Packs there are plenty of other local multiplayer games out there to keep your gaming session going. Or, if you're looking for more easy-access games for people less used to gaming, we've also got you covered there!
You can find my thoughts on the new Jackbox Party Starter here!
This is a bio. I'm making a post here, like and share. It's hard to overstate the fan reaction. We're Hexagorgon. We make what we can, because we must. For the good of all of us, except the h8rs and trolls.
But there's no sense crying over every bad post, we'll just keep on trying till we all go viral. And the podcast gets done, and you'll write something fun, for the people who are reading this.