Back in February of this year, Wizards of the Coast released their Norse Mythology inspired expansion for Magic the Gathering. The titular world of the set, Kaldheim, introduced us to a land of snow, gods and (most importantly) Elves. This was arguably the first set since Magic Origins with a supported Elves archetype. As a result, we got to play with a bunch of new cards across multiple formats – Standard included. Today, we're going to look back at what Kaldheim brought to Elves decks across Standard, Modern and Historic. We'll also go back and reconsider some of my card ratings from the Kaldheim Set Review and see how right or wrong I was in my predictions for the set.
---
Standard
The first format we visited after the release of Kaldheim was Standard. We ended up trying two different decks on the day: a Mono-Green Ramp build and a Green-Black Midrange version.
Mono-Green Standard Elves
Mono-Green did not perform well at all. The synergies present were not enough to overcome the raw power of what our opponents were doing. When your opponents are playing cards like Bonecrusher Giant, your creatures need to do a lot more to keep up. Unfortunately, unlike in older formats like Modern, we didn't have access to many good payoffs without dipping into Black.
The Vorinclex and Ugin B-plan didn't work out, either. I have since removed that part of the deck and replaced it with more focus on Elves.
Green-Black Standard Elves
Green-Black Elves felt much better to pilot than the mono-coloured version. By splashing a second colour, we gained a good enabler in Harald, King of Skemfar and a payoff in Skemfar Shadowsage. We get to overcome the issue of a limited card pool by doubling our options with a second colour. However, that second colour makes the manabase a lot worse. In fact, I regretted including Fabled Passage in the deck at all because it almost always slowed us down by an entire turn. Fortunately, Necroblossom Snarl was released in the next set and might alleviate that problem.
On the whole, our Standard run didn't go too well: the end result was 1-4 across the stream, with our only win coming from the Green-Black deck.
I feel that the issue we ran into was the sheer lack of options for Elves in the format. The decks felt like playing a Kaldheim 'Block Constructed' deck with a few bonus cards from the rest of Standard. With modern Magic design focussing on individual sets rather than blocks, we only get one set of Elf payoffs, rather than 2-3. As a result, I haven't revisited Standard Elves too often since the stream. I hope that the Elves that show up in Adventures in the Forgotten Realms can breath some more life into the archetype.
---
Modern
In order to Kaldheim in Modern, we took an updated version of a viewer submitted deck for a spin – Mono-Green Warriors. This take on Modern Elves benefitted massively from the new cards in Kaldheim, especially Elvish Warmaster. In this one-card package, we get an early threat and a lategame wincon all in one. What's more, the tokens the Warmaster creates are Elf Warriors, so they benefit from Bramblewood Paragon. Here in Modern, we got to see the power of what Warmaster can really do. In Standard, Warmaster often gets killed before you get the chance to use it, but with the mana generation of Llanowar Elves and Heritage Druid you rarely miss a chance to make a token from it. Joraga Warcaller also gets better with the go-wide strategy enabled by Elvish Warmaster and Dwynen's Elite.
Bramble Elves
Unfortunately for us, the gauntlet of decks we came up against was extremely hostile to creature decks. The number of Lightning Bolts we faced was far too high and, as a result, we couldn't improve on 1-4. Despite our poor record, we did get to see the sheer power of the new Kaldheim additions. Warmaster especially impressed, just as expected. If your turn one play gets killed, Warmaster is a much better turn two play than Dwynen's Elite (and our turn one plays got killed a lot). Realmwalker's power is still apparent, but our creatures were dying so often, it was difficult to really utilise it.
To be honest, this is the biggest improvement that Modern Elves has received in a while, even if our record doesn't reflect that. The best part of these new additions in the format is that they go in pretty much any Modern Elf deck, regardless of the specific variant you're playing. I picked the Warrior build because I liked the synergies that Warmaster brought to the table, but every other version of Elves still benefits.
I like Modern Elves' chances for the future with these new cards. We revisited the format later in the season and they really shone alongside all the variants of Elves that we played.
---
Historic
Historic is our final format for this retrospective. As with Standard, we brought two decks to brawl in Historic; one Mono-Green and one Green-Black. Since Jumpstart is legal in Historic we get to play Allosaurus Shepherd, a recent Legacy all-star.
Mono-Green Historic Elves
Both decks felt very strong. Historic had been getting a trickle of new tools through Historic Anthology releases and Jumpstart, but Kaldheim filled in some major holes in the deck. Not too long ago, we didn't have a great second option in the two-drop slot beyond Dwynen's Elite. Warmaster, yet again, came through and proved its worth. Also, as much as I hate to admit it, Jaspera Sentinel outdid my expectations. I'd love for Historic to get access to Elvish Mystic as a second one-mana mana dork, but until then, Jaspera Sentinel will do a decent job in that slot. The Sentinel can't power out a turn two Elvish Archdruid or Marwyn, the Nurturer, but can still get you to three mana on turn two as long as you split it up into a one- and two- drop.
Green-Black Historic Elves
Although I enjoyed playing the Green-Black deck, I wouldn't say the deck really needed the extra colour. Whereas in Standard, adding Black gave us access to some much-needed payoffs and wincons, in Historic, we already have Craterhoof Behemoth, the best wincon we can ask for. We also have Elvish Archdruid and other lords for when we've gone wide. As a result, we don't need to play a worse version of Shaman of the Pack. We just don't need what Black brings to the table. If we do get Shaman though, I'll be rapidly reassessing this stance.
Our Historic run went extremely well. We even managed to overcome multiple controlling decks. The deck we struggled with the most was actually Jund. They had access to a range of removal options and were using Chevill, Bane of Monsters to turn removal into card advantage. We just couldn't keep up. In the end, we went 3-2.
Alas, the very next set, Strixhaven: School of Mages, added a large selection of powerful non-creature tools to the format. Historic has become a much harsher environment for Elves in the aftermath of the set. Even though I continue to play Elves in the format, we will have to adapt.
---
The Kaldheim Re-Review
To close out this retrospective, I'd like to readdress some of the cards I reviewed in Kaldheim. We won't go over all the cards; just the ones that are worth talking about -and I'll be giving out some pointless rewards along the way for fun.
Most Improved: Jaspera Sentinel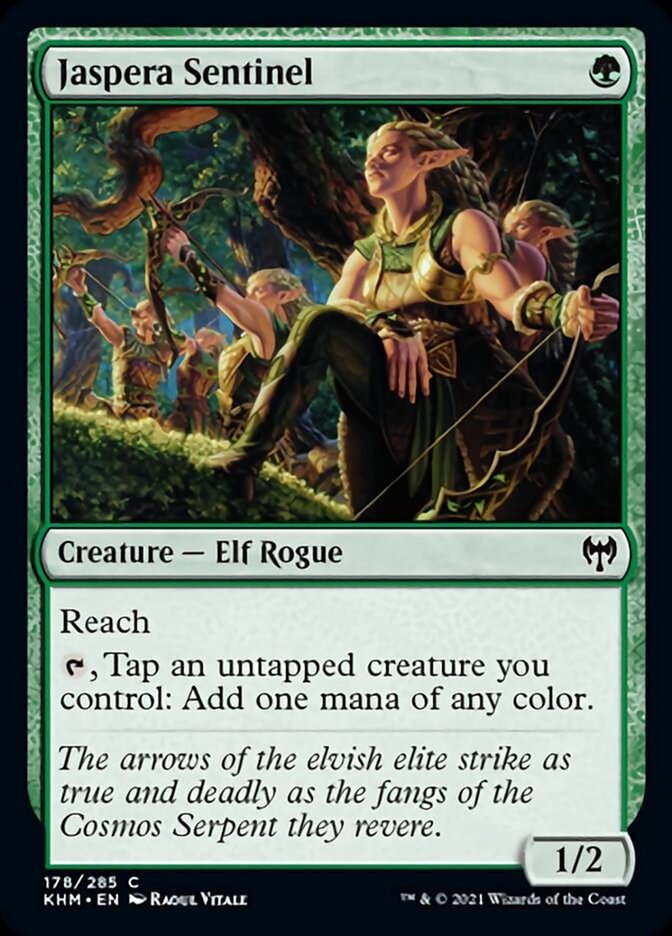 To be honest, I overemphasised my disappointment with Jaspera Sentinel ending up in the decks. I knew that any form of turn-one acceleration was what we needed in Historic and Standard, but cards like this are hard to get excited about. Despite this, Jaspera Sentinel has really overperformed, as I mentioned earlier. The extra point of toughness has allowed me to block against early attacks from 1/1s, a job Llanowar Elves can't do. The reach has also come up a non-neglible number of times: I've been able to block a lethal flier to earn me the one turn I need to win the game; and I've been able to keep a Tyvar safe from a flier as well.
All-in-all, Japera Sentinel has earned its space in my Historic lists. Right until I get hold of Elvish Mystic.
---
Most Disappointing: Skemfar Shadowsage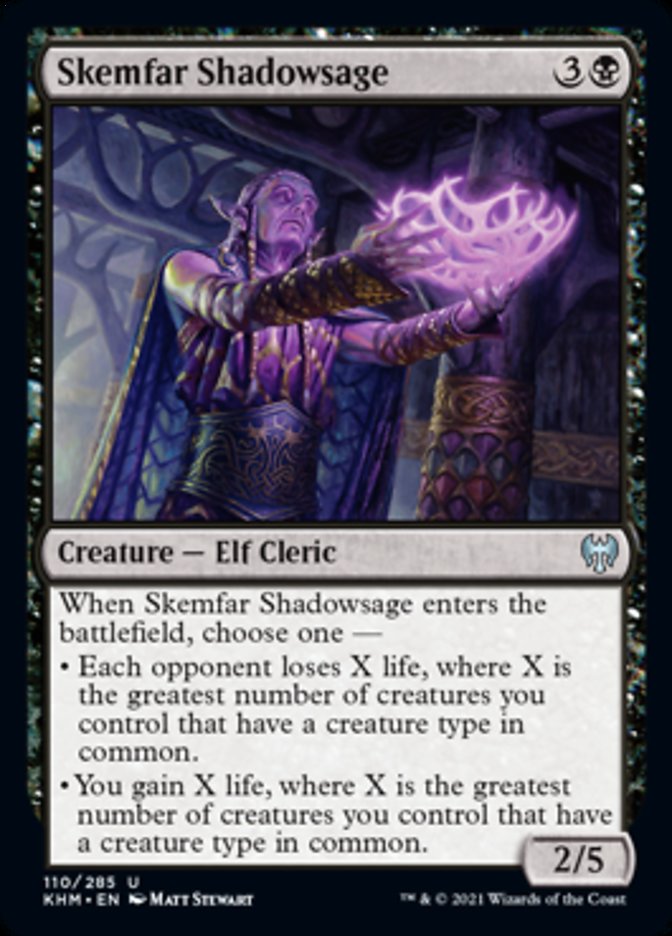 Shadowsage didn't perform anywhere near as well as I had hoped. It was never going to be the Standard or Historic version of Shaman of the Pack. However, the gap is greater than the single point of additional mana would suggest. Not only can we not hit hit with Collected Company, but the extra mana also makes it harder to chain multiple elves into Shadowsage in the same turn. The sage's body is also much less aggressive. Three power for three mana compared two power for four mana is night and day. Sometimes, you might not be getting a good drain from Shaman of the Pack's ETB effect, but you still feel okay because you can start using combat to pressure your opponent. Shadowsage just isn't a credible threat.
Over all, Skemfar Shadowsage just never seems to do enough when you need it, and the rest of the time, it's an awkward four-mana 2/5 that your opponent just laughs at as they excape their Kroxa and kill you. At least it can be a second copy of Shaman in EDH.
---
Judge's Favourite: Realmwalker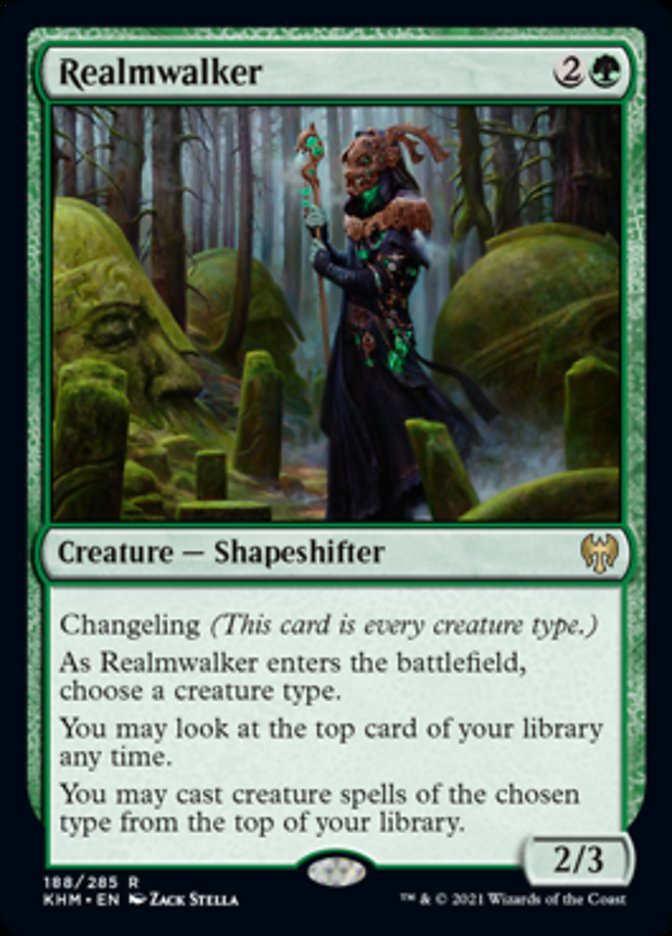 Despite maybe not being the best card for Elves in the set (more on that next), Realmwalker is still my favourite card in the set. When it pops off, it really pops off. You suddenly get to play 5 extra cards off the top of your library, untap your Nettle Sentinels and generate ridiculous value. Unfortunately, when you're not going off, a three-mana 2/3 is really not breaking any records. That's what really holds Realmwalker back in the end. That won't stop me loving Realmwalker, but I will accept that the best card in the set is….
---
Best in Show: Elvish Warmaster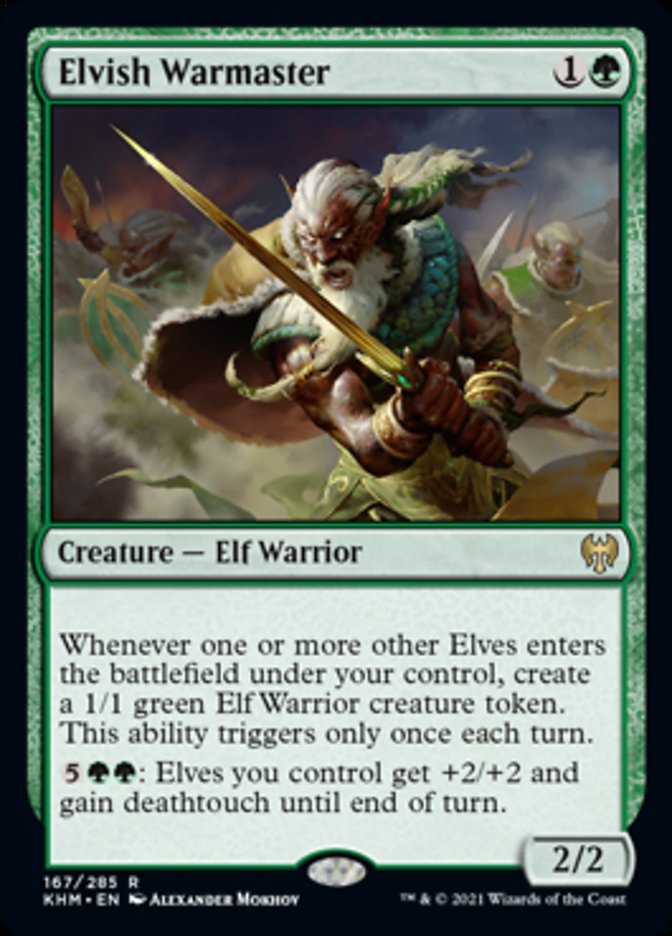 If you didn't get the message earlier in the article when I was waxing poetic about this card, Elvish Warmaster is amazing. We get so much for such a low mana investment. The Warmaster might be the best card we've gained since Collected Company (for Modern, at least, where we don't have Allosaurus Shepherd). It has quickly become the the most kill-on-sight threat for our opponent in all formats we've played it in – and with good reason.
In all honesty, if I could go back and change my review scores for Realmwalker and Warmaster, I'd probably swap them around. Realmwalker getting a higher score was definitely my favouritism coming into play and Warmaster deserves the top spot of the set and maybe even the year.
---
So, did Kaldheim deliver what Elves players wanted? I'd say multiple cards that are good enough to see play in Modern means it did. Modern is a powerful format, so Warmaster being able to hold it's own says a lot about the card's power.
However, Kaldheim didn't deliver in every way I had hoped. The lack of support beyond the set means that playing Standard Elves really feels lackluster. I would really have enjoyed the archetype making a bigger splash in the format. Unfortunately, the set doesn't stand up to the others in the format at the moment. While we're busy playing a few Elves and maybe a Tyvar, our opponents are ramping out Ultimatums or gaining value off Adventures. Maybe the Elves will have their day when rotation arrives.
That's it for the Kaldheim retrospective. From here, we'll be looking forward to how Modern Horizons 2 and Adventures in the Forgotten Realms affect our favourite deck archetype. Sadly, there wasn't really a need to look back over Strixhaven's contributions to Elves because of how small they were.
In the meantime, come say hi during a Thursday stream over at our Twitch Channel.
Jamie is a MtG and assorted gaming enthusiast who wants to bring his enjoyment and passion for games to everyone.